INTRODUCING THE WORLD'S MOST POWERFUL
ARROW BASED CANDLESTICK PREDICTOR.
GET READY FOR AMAZING ACCURACY...
FOREX CANDLE PREDICTOR
CLEAR BUY / SELL ARROWS FOR PREDICTING THE NEXT CANDLE
For the first time, an indicator has been developed, which manages to CORRECTLY predict the direction of the next IMMEDIATE candle, with incredible accuracy, never seen before on this planet.
WHICH DIRECTION SHALL THE NEXT CANDLE CLOSE?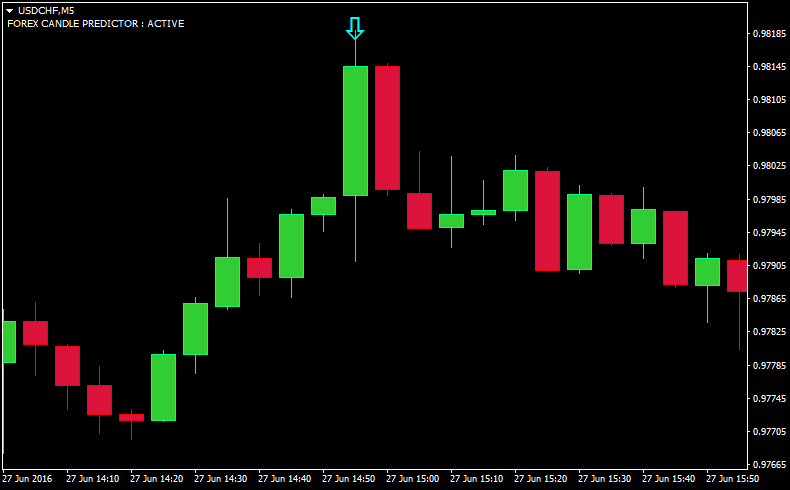 ARROWS APPEAR AT CLOSE OF CANDLE.
____________________________________________________________________________
75% HIT RATE
WORLD'S GREATEST CANDLESTICK PREDICTOR.
NO PREDICTOR CAN MATCH ITS ACCURACY.
ONE YEAR MONEY BACK GUARANTEE.
____________________________________________________________________________
THE PREDICTIONS BELOW ARE
WHAT HAPPENED IN REAL TIME!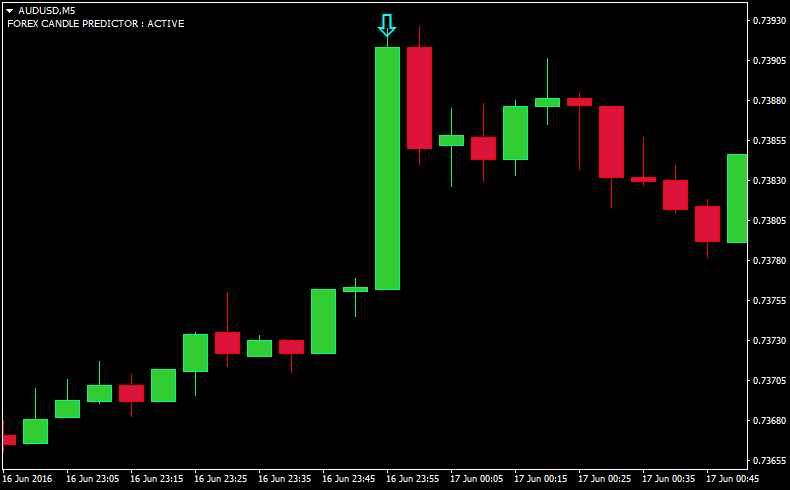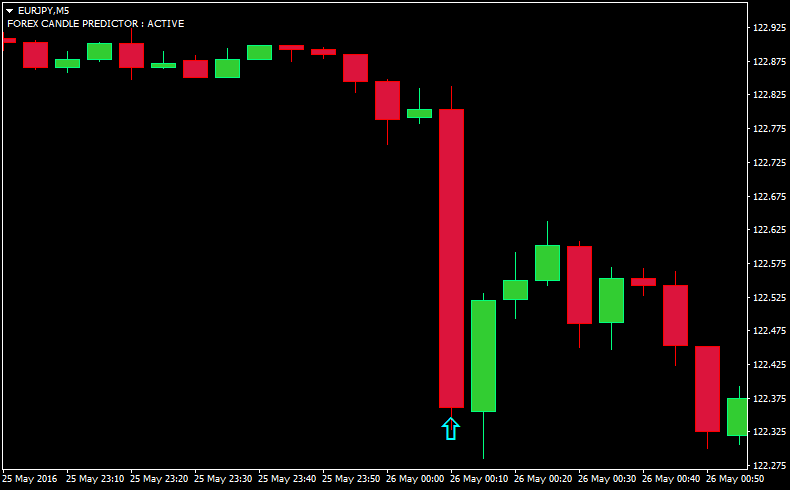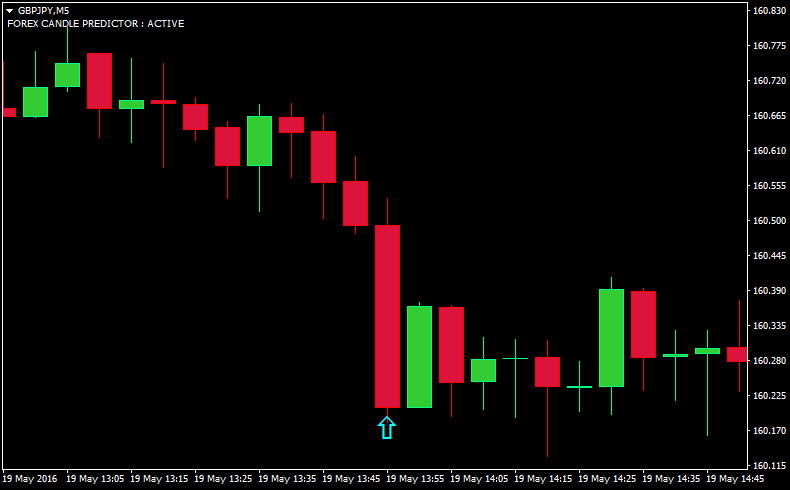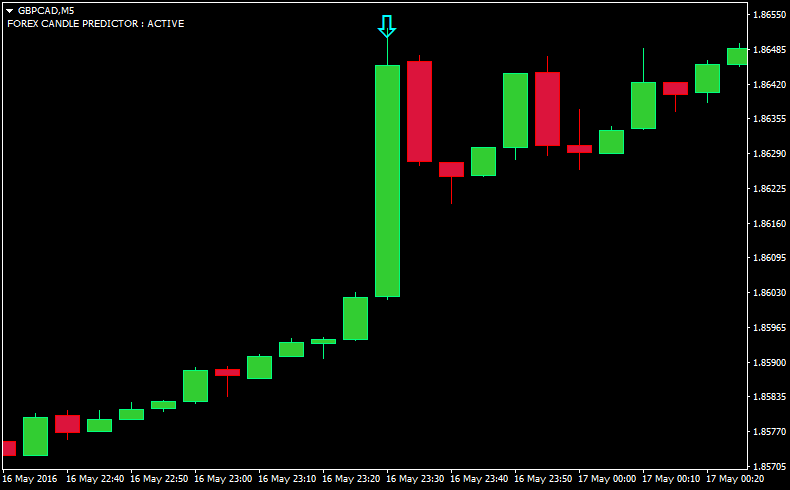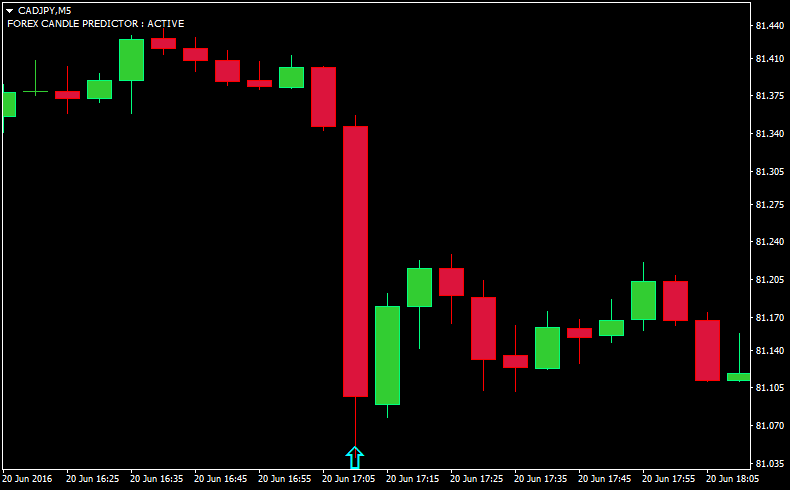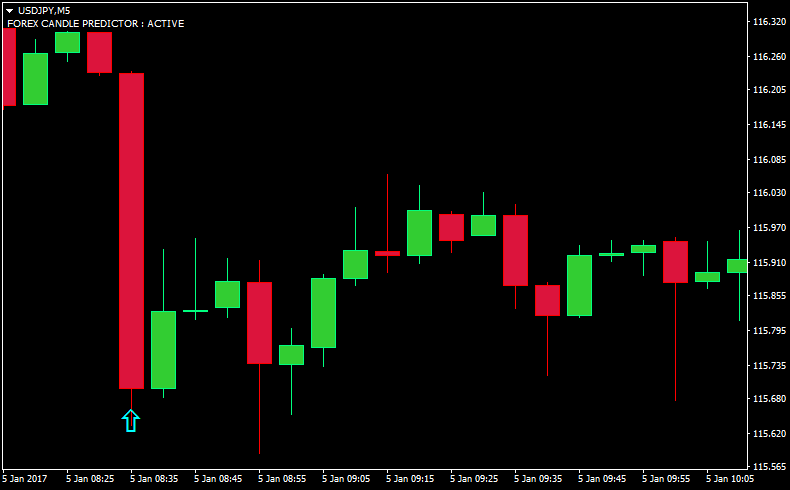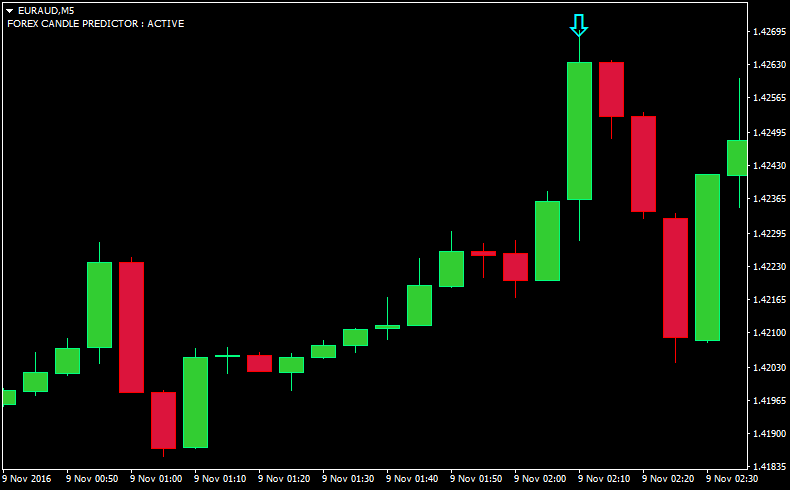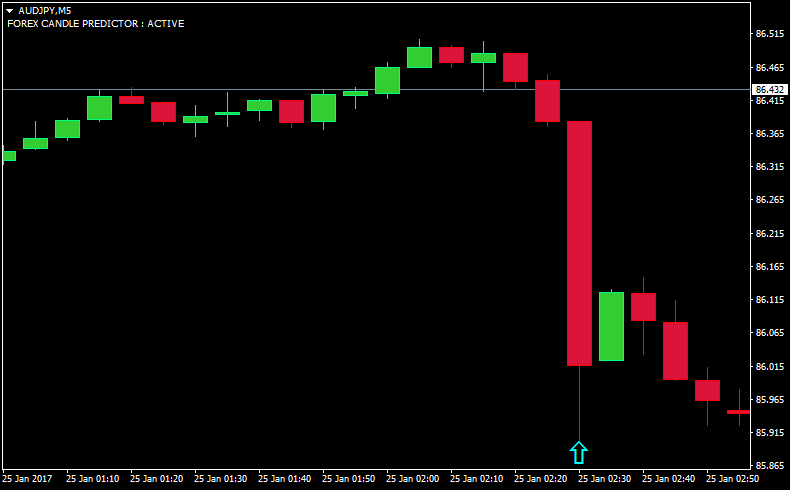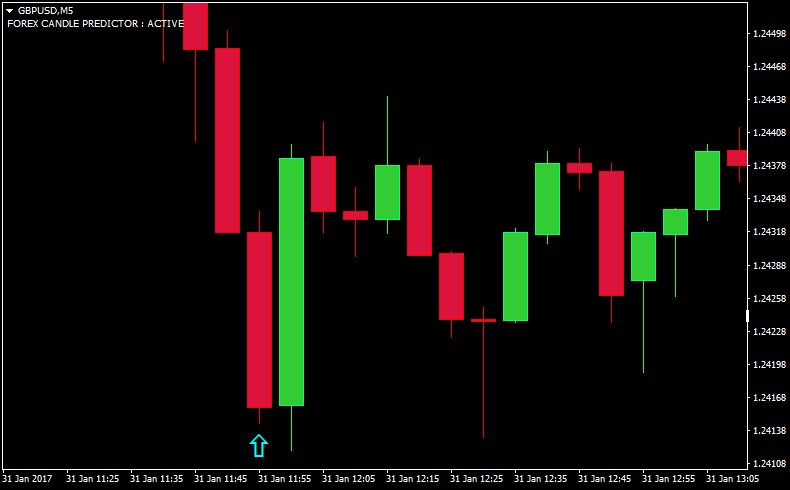 ARROWS APPEAR AT CLOSE OF CANDLE.

And yes, these are the EXACT trades you will see on your charts. These arrows will NEVER repaint. A lot of arrow based indicators will draw you an arrow, but after a few candles, they will either disappear, or move location, known as repainting or redrawing. Whilst this in itself is rather benign and pointless, it becomes plain deception when marketers use such indicators to show innocent traders seemingly accurate signals.

So let us be extremely clear here. OURS DON'T REPAINT. Exclusively for Metatrader 4, the "FOREX CANDLE PREDICTOR" indicator will draw arrows at the close of the candle on the M5 (five minute) timeframe, and those arrows will ALWAYS remain there. No moving of arrows, no disappearing, no deception.

_______________________________________________________________________________
"FREQUENTLY ASKED QUESTIONS"
What is the Forex Candle Predictor?
It is a visual indicator, for the Metatrader 4 (MT4) platform, that draws arrows on your currency chart, informing you, specifically, in which direction the next candle / bar shall move and close. I.e. will the next candle be a "bull" or a "bear" candle? Up or down? Above or below? That's the question which our software accurately answers.
Is this an EA (Expert Advisor) and will it trade for me?
The Forex Candle Predictor is an indicator for MT4 which draws up & down arrows, informing you of the direction of the next immediate candle - see it as a tool to aid your trading; how you want to use the tool is up to you. However, we do have plans in place to release an EA (automated robot) later in 2017 - which will be available for free, but ONLY to subscribers of the indicator.
Will the Forex Candle Predictor work on my broker?
Absolutely, as long as you're running the Metatrader 4 platform.
How much does the Forex Candle Predictor cost?
The first year will cost $499. After that it's simply a yearly cost of just $19 / year. (Please note, price is subject to change at any time.)
What is the winning ratio of the Forex Candle Predictor?
The Forex Candle Predictor will correctly predict the direction of the next candle on average 75% OF THE TIME. This winning ratio is something truly spectacular, which no other indicator can match, giving you an amazing edge. Some months might be higher, some months might be lower, but we can guarantee that the number of correct candlestick predictions will be at least double the number of incorrect ones over a period of six months. Put simply, our indicator is currently the world's most accurate candlestick predictor.
Can I receive alerts on my iPhone or Android smartphone?
Indeed! Forex Candle Predictor supports Push Notifications to Google Android and iOS based smartphones, including the Apple iPad tablet.
How many signals will I get with the Forex Candle Predictor?
Years of testing went into the Forex Candle Predictor before release. The indicator will usually generate an average of 5 to 6 signals per month. Some months the frequency can be higher, other months it can be less frequent. Whilst this might not seem like a lot of signals, remember it's the accuracy of the signals that's important, not the quantity. (There are already lots of indicators out there offering dozens of alerts a week, but they just end up with a lot of false signals.) With the very strict criteria implemented into Forex Candle Predictor, it means you get the high probability alerts which is actually what is essential, and remember you can get instant email and smartphone alerts!
Can I use the Forex Candle Predictor on more than one broker?
Your Forex Candle Predictor license is limited to a single broker account. However, if you wish to change brokers or MT4 account number, you can do so at any time for free, not a problem - simply email: support@fxcandlepredictor.com
Which timeframe and currency pairs does the Forex Candle Predictor support?
28 pairs, specifically: EURUSD, USDCHF, GBPUSD, USDJPY, EURJPY, EURAUD, CADJPY, NZDUSD, AUDNZD, AUDJPY, NZDJPY, GBPJPY, USDCAD, AUDUSD, EURGBP, EURCHF, GBPCHF, GBPAUD, EURCAD, CHFJPY, AUDCAD, EURNZD, NZDCHF, NZDCAD, AUDCHF, GBPCAD, CADCHF, GBPNZD, on the M5 timeframe only (five minute).
Does the Forex Candle Predictor repaint?
We've said it before and we'll say it again - our indicator does not repaint or redraw or move. The alerts / arrows will appear once the candle has closed. Once the arrow appears, it sticks.
Do you offer a guarantee?
Absolutely. However, since the amount of signals aren't excessive, it's important that you test the indicator for a period of 6 months. We expect a 75% hit rate for our indicator - some months might be higher, some months might be lower, but we can guarantee that the number of correct candlestick predictions will be at least double the number of incorrect ones. Thus, if after 6 months, the indicator fails to achieve a minimum of a 2:1 success rate, and you can show us a more accurate candlestick predictor than ours, you are entitled to a full refund.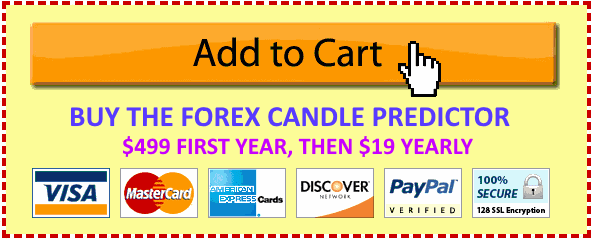 IN ADDITION TO THE INDICATOR - YOU SHALL ALSO
RECEIVE THE FCP EA (EXPERT ADVISOR) - DUE LATER IN 2017
ALL CLIENTS SHALL ALSO RECEIVE THE FOREX CANDLE PREDICTOR EA / AUTOMATED ROBOT UPON RELEASE (LATER IN 2017), WHICH ALLOWS YOU TO ENTER TRADES WITHOUT BEING AT THE COMPUTER. HOW YOU CHOOSE TO USE THE EA SHALL BE YOUR CHOICE. THE EXPERT ADVISOR SHALL HAVE THE OPTIONS OF ENTERING AT THE CANDLE OPEN, AND EXITING AT THE CANDLE CLOSE, OR YOU MAY SET YOUR OWN STOP LOSS FOR DIFFERENT CURRENCIES. WE RAN A BACKTEST WITH A TEST VERSION OF OUR EA (STILL BEING DEVELOPED) AND THE ACHIEVED THE BELOW (THEORETICAL) RESULTS. REMEMBER, THIS IS ONLY IN THEORY, WE DON'T GUARANTEE THESE RESULTS, AS THERE ARE LOTS OF DETERMINING FACTORS WHEN TRADING LIVE VIA FOREX BROKER, SUCH AS STOP LOSS, SPREAD, COMMISSION, EXECUTION SPEED, SLIPPAGE, ETC... SO WHEN TRADING / SCALPING LIKE THIS, RESULTS CAN BE VERY BROKER AND TRADER DEPENDENT.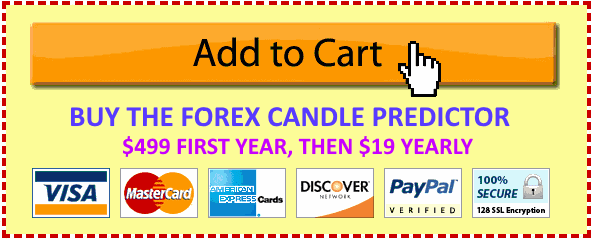 DOWNLOAD FREE MANUAL FOR CANDLE PREDICTOR
FINALLY, WE ARE GIVING YOU THE OPPORTUNITY TO CHECK OUT THE MANUAL / PDF GUIDE FOR THE FOREX CANDLE PREDICTOR, SO YOU CAN GET A BETTER UNDERSTANDING OF WHAT KIND OF BEAST WE ARE DEALING WITH HERE... SIMPLY ENTER YOUR EMAIL INTO THE FORM BELOW AND CLICK ON SUBMIT.
_______________________________________________________________________________
Terms and Conditions. Years of hard work have gone into producing what we believe is the best arrow based forex candlestick predictor, which we are making available to the public for the first time; please don't jeopardise this for the rest by engaging in any cracking activities. The software shall be delivered to your email address within 24 hours. Each license is for one broker account. Price / subscription is subject to change at any time.
Minimum Requirements: The Forex Candle Predictor is designed for Microsoft Windows platforms (XP, Vista, 7, 8, 10) and the Metatrader platform. It is preferable to have a dual core computer with at least 2GB of RAM.
Required Disclaimer: Forex trading is difficult, and we make no claims that you'll become profitable by using the FOREX CANDLE PREDICTOR . Past results are not a proof of future results. We merely provide you a tool which predicts the direction of the next immediate candle / bar. How you use this information is up to you. It is a tool, use it as such to aid your trading.
Support: If you have any questions, please don't hesitate to ask: support@fxcandlepredictor.com
Refund Policy: We believe that the Forex Candle Predictor is the best non-discretionary MT4 candlestick predictor in the world. If, after testing the Forex Candle Predictor for at least six months, it doesn't hit at least a 2:1 winning ratio (i.e. number of winners is at least double number of losers), across the 28 specified currency pairs on the M5 timeframe, please provide us a better non-repainting candlestick predictor, whether free or commercially available, (thus we shall compare the next three calendar month's trades for both indicators in real time to make sure it is indeed better than ours) and we will honour a complete refund. Our testing shall be done with FXCM UK MT4. Please note your refund request must be made within a year, from date of purchase.
_______________________________________________________________________________________________